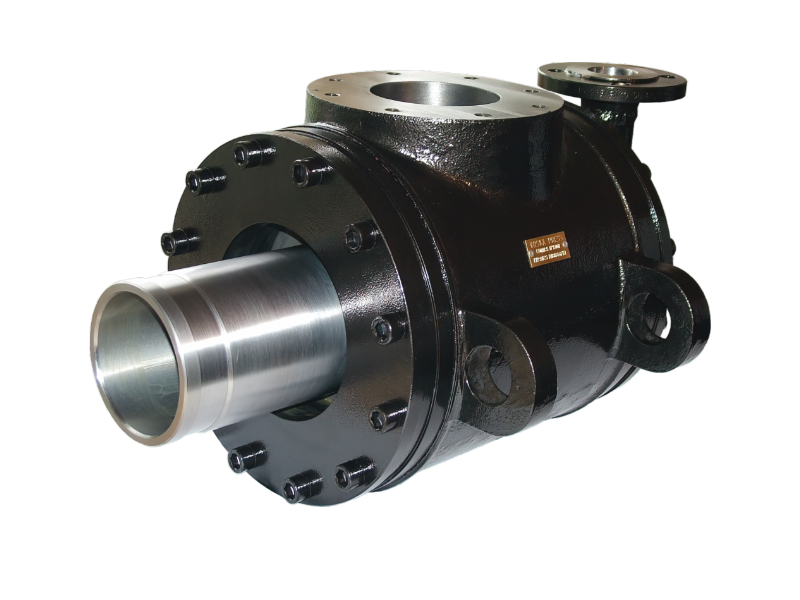 RECOMMENDED APPLICATIONS:
Corrugating, Converting, Textiles, Food and Medical industries
Hot and Thermal Oil 300°C
Steam and Steam Condensate (up to 235°C)
For low rpm
Rotary joint type TNB with double spherical carbon sealing rings has no bearings and it is available in monoflow and duoflow version. In monoflow version it can be single inlet, or single outlet. Low speed high flow rotary joint design for transfer of hot oil, steam and water.
Through years of experience, it has been modified, redesigned and brought to perfection. New sealing technology, robust sealing ring as well as advanced materials enable reliability and extended life time.
Connection to the machine by means of:
For different sizes and connections (inlet & outlet) as well as sizes of stationary syphon pipe, please contact Vrska Press company or your local representative.
For ordering instructions see coding system page.
Monoflow & duoflow design
Spherical carbon graphite sealing ring
Anti-Rotation supported rotary joint
Seal faces combination: Carbon, Cast iron
Inner parts: Stainless steel
Operating data
Avoid combination of maximum values. Medium plays important role to determine limiting factors, therefore we kindly ask our customers to contact our company before ordering. Higher values on request.
If you have any questions or concerns about the product, please feel free to call or send us a message.